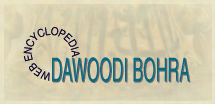 Disclaimer
This Web site is an expression of personal faith and has not been commissioned by any organised body and does not represent the views of any institute or board. It has not been sanctioned either by the spiritual head of the Dawoodi Bohra community, His Holiness, Dr. Syedna Muhammad Burhanuddin (TUS), or by any person/s authorised by him. As such, this entire site is unofficial and cannot be construed as an authoritative source of information for legal purposes or otherwise. I am not responsible for opinions expressed on sites that are linked to from this site.
At some places in this Web site, information may have to be used (for explanatory or demonstration purposes) that has been gleaned from sources which have do not have explicit approval (razaa) and hence these are to be considered as non-official sources. To prevent any misunderstanding in this regard, if I ever need to use such sources (which alhamdulillah, I have not needed to do so far and insha'Allah, will not need to), I will conspicuously and explicitly state this.
The main purpose of this site is to share a veritable treasure with the scholastic, historian, Web community. When you have a valuable jewel, it does little service hidden in a personal vault. When the same jewel is showcased in a museum, the beauty is revered and appreciated by millions. While being all of the above, the development of this Web site is also, more than anything else, a personal attempt at learning, discovering and understanding these jewels of faith and culture enshrined in the lives and beliefs of the Dawoodi Bohra community.
---